Austin (Trainer)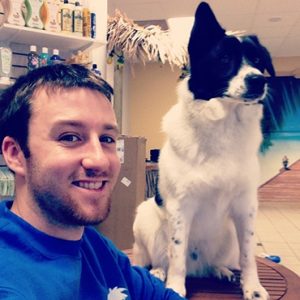 My name is Austin. I've always loved working with animals of all kinds, but dogs are my passion. My interest in dogs led me to Woofbeach, where I live my dream every day training dogs. Before my employment at Woofbeach, I earned my associates degree at Waubonsee Community College. All of my knowledge that is implemented in training on a daily basis was gained from my mentor, Eric Wilson. I am confident that I can successfully train a dog, while satisfying owners. I create a special bond with each and every dog I work with, which is one of many reasons that training at Woofbeach is so effective.
While not at work, I enjoy playing with my dog, Douglas, who I have personally trained at Woofbeach prior to adopting him. My relationship with Doug truly makes me understand the meaning of a "man's best friend." I also enjoy staying active by working out, playing basketball, baseball, and softball. Spending time with family and friends is another huge part of my life. They constantly show their support in my profession, which adds to the glory of my job.
Come in today, and you will find that there is NO PLACE like Woofbeach!