WoofBeach Therapy Dog Training Batavia, IL
Therapy dog training by WoofBeach.
Therapy Dog Training Batavia, IL
Here's a quick look at what therapy dogs do and the specialized training for them offered at WoofBeach:
Therapy dogs are trained to give comfort to people who are in a facility environment such as hospitals, schools, libraries, and nursing homes or assisted living centers. Research has demonstrated that spending time with a therapy dog is beneficial and can help regulate blood pressure, lower heart rate, lower anxiety and even boost endorphin levels. Naturally occurring in the body, endorphins help relieve pain and promote a sense of overall well-being.
Essential Part of Your Pet's Well-Being
Good candidates to become a therapy dog should be of calm disposition and generally affectionate toward strangers. Additionally, a therapy dog must be at ease while working in proximity to special needs people who may be in a wheelchair or bedridden.
The dog will also need to be comfortable around young children, and with the sounds of medical equipment they may encounter in a hospital or assisted living facility. Equally important: therapy dogs must take pleasure in their work! It's these traits, rather than a dog's pedigree or age that will determine if he or she is a viable candidate to become a therapy dog.
Basic obedience training (offered at Woofbeach), is very helpful for a potential therapy dog too. Therapy dog organizations typically require their dogs to receive regular check-ups and remain well-groomed when they spend time with patients. It's recommended that therapy dogs go through the American kennel club's canine good citizen program (also available here at Woofbeach).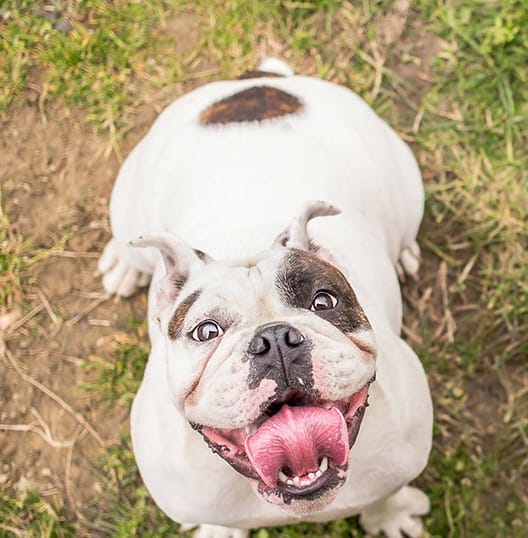 HERE AT WOOFBEACH ALL TRAINING PACKAGES ARE GUARANTEED FOR THE LIFE OF YOUR DOG.
If you'd like to learn more about our therapy dog training programs here at WoofBeach, stop in or give us a call and talk to one of our trainers. We offer a great selection of training options that can benefit your dog – get started today!
Contact WoofBeach about our advanced obedience training and how it can benefit your dog and enhance your relationship! Our dog training packages are guaranteed for the life of your pet.
CONTACT US TODAY