WoofBeach Dog Nail Grinding Batavia, IL
Dog Nail Grinding Batavia IL is a service that WoofBeach offers either by appointment or during our convenient walk-in service hours of 10 a.m. to 3 p.m. As an alternative to clipping, our groomers simply use an electric grinding instrument to safely trim your dog's nails.
Dog Nail Grinding Batavia, IL
Our staff is experienced and will be sure to handle your canine pal gently and with great care to avoid any discomfort.
While nail trimming needs vary depending on breed and level of activity, we typically suggest a trim when you can hear your dog's nails clicking on the floor. Other signs to watch for include nails growing around the paw and into the pads, or when the nails get tangled in carpeting or grass. When left untrimmed for too long, a dog's nails can become quite uncomfortable and start to hinder their movement. Generally, a monthly trim is beneficial for most dogs, although those that spend most of their time inside may need more frequent trims. Ask your WoofBeach groomer at 630-326-9277 about a schedule that's the best fit for your furry friend.
Essential Part of Your Pet's Well-Being
Note that some dogs do not enjoy it when their feet are touched. As a dog care tip that will help a nail trim or dog nail grinding Batavia il go smoothly, we recommend massaging your dog's feet for just a few minutes daily.
Move your hands up and down their legs first and then press each toe gently – treats and kind words also help too! It won't take long until you dog becomes comfortable with the routine and will have no worries when they visit woofbeach for a nail treatment.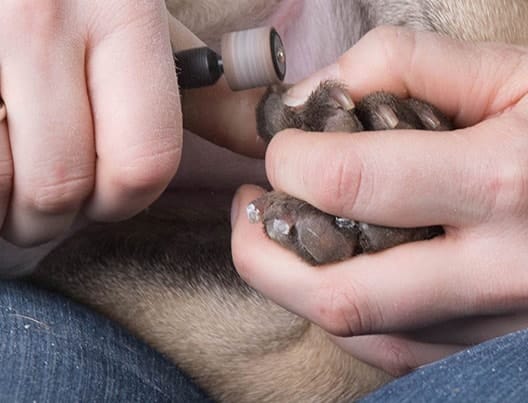 Healthy Dog Equals Happy Dog
WoofBeach is a family-owned business founded in 2012. In addition to our store at 1840 Mill Street in Batavia, we also have stores in South Elgin and in Geneva. Visit us for all your dog grooming and training needs!