WoofBeach Dog Ear Cleaning Batavia, IL
Dog Ear Cleaning Batavia IL is one of the many walk-in services offered at WoofBeach during the hours of 10 a.m. and 3 p.m. No appointment required!
Dog Ear Cleaning Batavia, IL
Our Batavia store is located at 1840 Mill Street. Visit WoofBeach and see why we're popular with dog owners and their pets. We present an environment that helps our four-legged clients feel comfortable – and our services are always at rates that help dog owners feel comfortable too!
Essential Part of Your Pet's Well-Being
Regular dog ear cleaning is an essential part of your pet's overall well-being. It's a chore, however, that must be performed correctly to avoid the risk of causing injury to the dog. At Woofbeach, our qualified team of groomers have years of dog ear cleaning Batavia il experience, so you can be assured of a safe and professional procedure. If you'd prefer to set an appointment, just give us a call at 630-326-9277.
How often your dog's ears should be cleaned depends on their surroundings, level of activity, breed and coat. Dogs with a moderate amount of activity and regular ears should typically receive a cleaning around once per month. Dogs with excessive hair inside their ears, or dogs that swim or get their ears wet frequently, should probably receive a dog ear cleaning Batavia il more often. Your woofbeach groomer can inspect your dog's ears and recommend a schedule for you.
Along with our dog ear cleaning Batavia il, woofbeach offers a number of other services that don't require an appointment between 10 a.m. and 3 p.m. visit us for nail trimming, nail grinding, a paw pad trim, and teeth brushing.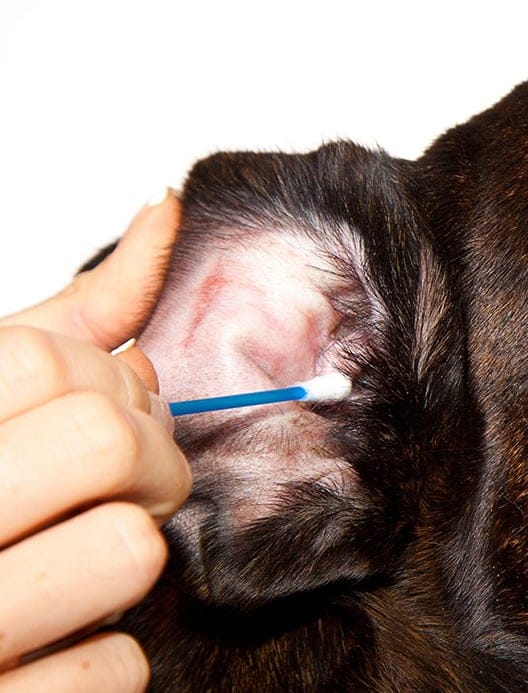 Healthy Dog Equals Happy Dog
WoofBeach offers a "beach vibe" that welcomes our very special clients and their owners with a relaxed atmosphere. Our groomers specialize in compassionate care that will leave your dog looking and feeling good!